CPA 2012 Location
CPA 2012 was hosted by the Institute of Arts, Media and Computer Games at the University of Abertay Dundee, in Dundee, Scotland.
Dundee is the hub of the UK's computer games industry, with two universities in the city centre. Abertay's specialities include the UK's first Centre of Excellence in Computer Games Education, and the SIMBIOS Centre for multidisciplinary systems modelling and simulation centre.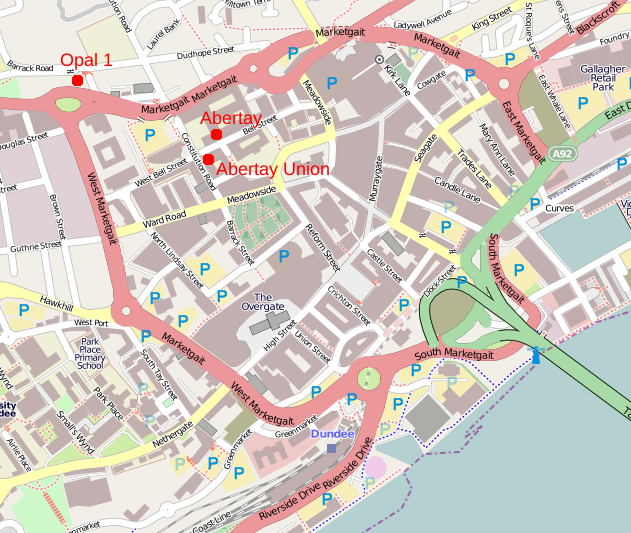 Venues
The main conference venue was the Hannah Maclure Centre, located on the top floor of the Abertay Union building. The Centre has a 72-seat theatre that was be used for presentations, and a spacious gallery and cafe to use as a breakout space for coffee breaks, posters and demonstrations.
CPA's evening meals and fringe events took place in Bar One, on level 2 of the Abertay Union building, a well-equipped modern bar with tables, sofas, and space for presentations.
Accommodation
The conference registration fee included en-suite accommodation for Sunday, Monday and Tuesday nights in Opal 1 Dundee. Just over the road from Abertay, Opal 1 provides modern student rooms grouped into 5/7-room flats, with a well-equipped shared kitchen for each flat, and a common room with laundry facilities.